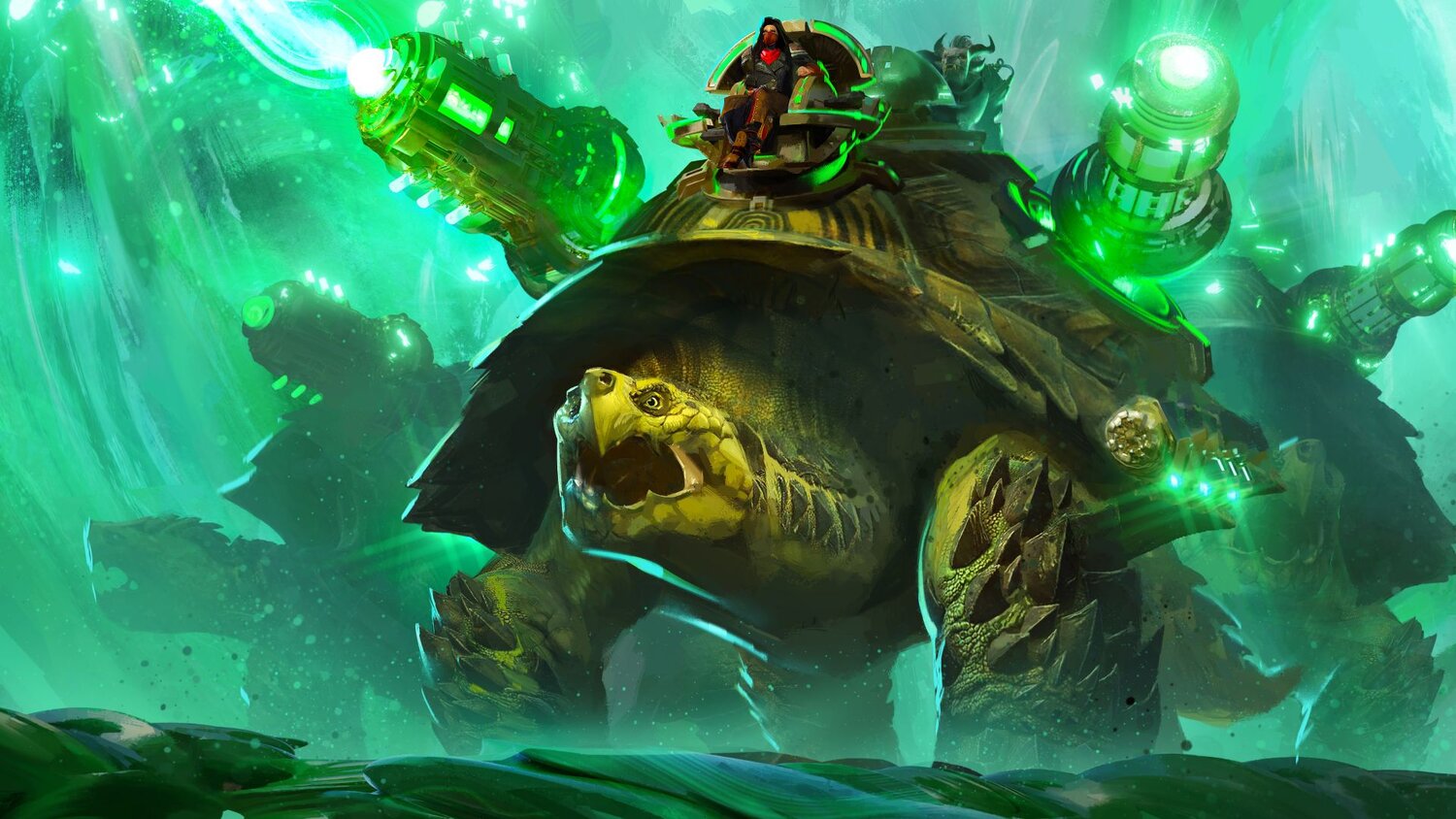 First off, in that trailer, I get major Kuvira (from The Legend of Korra) vibes from the main person we see who I believe is voiced by Erika Ishii. Ishii is joining the voice cast along with Noshir Dalal, Ry Chase, Rina Hoshino, Tina Huang, and Sarah Sokolovic. This is going to be so awesome!
Probably the addition to the game that I am most excited for is the new Siege Turtle mount. This will be the first multiplayer mount in the game (notice how it's "first" and not "only") and allows you and a friend to travel together on a giant turtle ready to break down a fortress. Your friend doesn't even have to have mounts unlocked to ride along. It's going to be amazing for people bringing friends into the game. Other additions include Skiffs which are vehicles that let you go on the water and do things like the new activity which is fishing. Fishing won't be exclusive to Cantha though. There will be fishing all across Tyria after End of Dragons launches.
There will also be new Elite Specializations with the first one shown off being the Virtuoso for Mesmers. More will be revealed in the lead up to several week-long betas that will happen August-November with the first one occurring on August 17. These beta events will be available to everyone who logs in. Just create a new character during the beta period to get access to the new Elite Specs.
For even more content, there will be 5 new Masteries including Fishing, Siege Turtles, and Skiffs. There will also be a 3rd generation of Legendary Weapons inspired by Aurene. Precursors will be inspired by baby Aurene while the final builds will resemble the adult version of the dragon we know. There will even be new Strike Missions and Challenge Modes are being introduced for the new Strikes.
We also know that End of Dragons will update the engine of the game from DX9 to DX11 which has a lot of potential for improving the performance and graphics of the game on many modern computers. It's a very exciting upgrade fans have been begging for.
Fans can pre-order End of Dragons now for as little as $29.99 and get bonus items like a Flame Serpent Weapon Chest, Shing Jea Mosaic Cape, and Prodigy of Shing Jea Title as well as a shared inventory slot and a level 80 boost. Other editions will be avialable with more goodies like a Dragon Boat Skiff skin and Canthan Raptor mount skin. Finally, you can now pre-order an awesome sculpt of Aurene from Guild Wars 2 for $120. I cannot wait for February!
Source link