Everything Coming to and Leaving Netflix in April 2021 — GeekTyrant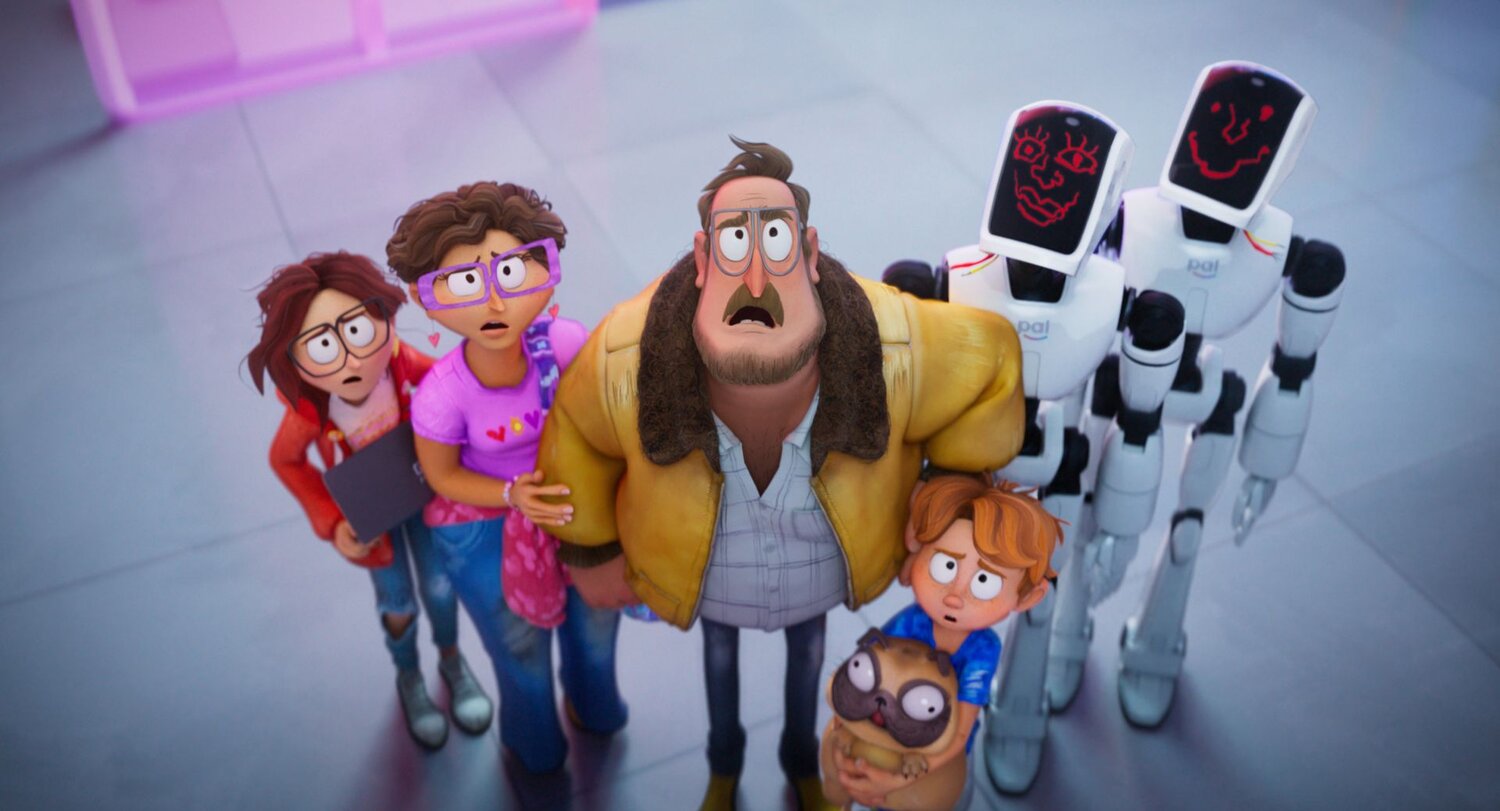 Netflix has revealed all of the titles joining their streaming service next month. Among the titles are The Mitchells vs. The Machines which I am very excited for. Netflix really is ramping up their original programming though as I would estimate roughly 90% of the new content is all Netflix Originals. What has you the most excited?
Coming Soon
Available April 1
Magical Andes: Season 2 — NETFLIX DOCUMENTARY

Crossing and uniting seven countries in South America, the Andes always have another landscape, adventure and story to tell. Discover them all.

Tersanjung the Movie — NETFLIX FILM 🇮🇩

Worn Stories — NETFLIX DOCUMENTARY

In this funny, heartfelt and moving docuseries, real people unpack the fascinating and quirky stories around their most meaningful pieces of clothing.

2012

Cop Out

Friends with Benefits

Insidious

Legally Blonde

Leprechaun

The Pianist

The Possession

Secrets of Great British Castles: Season 1

The Time Traveler's Wife

Tyler Perry's Madea's Big Happy Family

White Boy

Yes Man
Available April 2
Concrete Cowboy — NETFLIX FILM

Just Say Yes — NETFLIX FILM 🇳🇱

Madame Claude — NETFLIX FILM 🇫🇷

The Serpent — NETFLIX ORIGINAL 🇬🇧

Sky High — NETFLIX FILM 🇪🇸

After falling for Estrella, Ángel, a mechanic from the Madrid suburbs, dives into a world of heists and becomes the target of a relentless detective.
Available April 3
Available April 4
Available April 5
Available April 6
Available April 7
The Big Day: Collection 2 — NETFLIX ORIGINAL 🇮🇳

Dolly Parton: A MusiCares Tribute — NETFLIX DOCUMENTARY

Snabba Cash — NETFLIX ORIGINAL 🇸🇪

This Is A Robbery: The World's Biggest Art Heist — NETFLIX DOCUMENTARY

The Wedding Coach — NETFLIX ORIGINAL

Bridesmaids and in-laws and mason jars, oh my! Weddings are a beautiful cause for celebration, but planning one is far from a party. After barely making it down the aisle of her own wedding, comedian Jamie Lee is on a hilarious, heartwarming mission to help six engaged couples overcome the stressful real-life challenges that pop up before and on The Big Day.
Available April 8
Available April 9
Have You Ever Seen Fireflies? — NETFLIX FILM 🇹🇷

Rebellious, irreverent wunderkind Gülseren navigates loneliness, love and loss against the current of political turmoil and social change.

Night in Paradise — NETFLIX FILM 🇰🇷

Thunder Force — NETFLIX FILM
Available April 10
Available April 11
Available April 12
New Gods: Nezha Reborn — NETFLIX FILM 🇨🇳

Nicky, Ricky, Dicky & Dawn: Seasons 1-4
Available April 13
The Baker and the Beauty: Season 1

Mighty Express: Season 3 — NETFLIX FAMILY

My Love: Six Stories of True Love — NETFLIX DOCUMENTARY
Available April 14
The Circle: Season 2 — NETFLIX ORIGINAL

Dad Stop Embarrassing Me! — NETFLIX ORIGINAL

Brian Dixon knows how important family is. When his teenage daughter comes to live with him, he enlists the help of his Pops, sister, and best friend to tackle teenage boys, TikTok, and the family business.

Law School — NETFLIX ORIGINAL 🇰🇷

The Soul — NETFLIX FILM 🇨🇳

Why Did You Kill Me? — NETFLIX DOCUMENTARY
Available April 15
Available April 16
Arlo the Alligator Boy — NETFLIX FAMILY

To find the father he never knew, optimistic Arlo leaves his swampy Southern home for New York City, making friends and dodging trappers along the way.

Ajeeb Daastaans — NETFLIX FILM 🇮🇳

Barbie & Chelsea The Lost Birthday

Crimson Peak

Fast & Furious Spy Racers: Season 4: Mexico — NETFLIX FAMILY

Into the Beat — NETFLIX FILM 🇩🇪

Rush

Synchronic

Why Are You Like This — NETFLIX ORIGINAL 🇦🇺

Three best friends negotiate work, fun, identity politics, hookups and wild nights out in this razor-sharp satire of millennial life in Melbourne.

The Zookeeper's Wife
Available April 18
Luis Miguel – The Series: Season 2 — NETFLIX ORIGINAL 🇲🇽

As his career skyrockets, Luis Miguel struggles with his family life amidst a string of betrayals, heartbreaking revelations and a crushing loss.
Available April 19
Miss Sloane

PJ Masks: Season 3
Available April 20
Available April 21
Available April 22
Available April 23
Heroes: Silence and Rock & Roll

Shadow and Bone — NETFLIX ORIGINAL

Tell Me When — NETFLIX FILM 🇲🇽
Available April 27
Available April 28
Available April 29
Available April 30
The Innocent — NETFLIX ORIGINAL 🇪🇸

The Mitchells vs. The Machines — NETFLIX FAMILY

From the humans who brought you the Academy Award-winning Spider-Man: Into The Spider-Verse and The LEGO Movie comes The Mitchells vs. The Machines, an animated action-comedy about an ordinary family who find themselves in the middle of their biggest family challenge yet…saving the world from the robot apocalypse. No big deal, right? It all starts when creative outsider Katie Mitchell is accepted into the film school of her dreams and is eager to leave home and find "her people," when her nature-loving dad insists on having the whole family drive her to school and bond during one last totally-not-awkward-or-forced road trip. But just when the trip can't get any worse, the family suddenly finds itself in the middle of the robot uprising! Everything from smart phones, to roombas, to evil Furbys are employed to capture every human on the planet. Now it's up to the Mitchells, including upbeat mom Linda, quirky little brother Aaron, their squishy pug, Monchi, and two friendly, but simple-minded robots to save humanity.

Pet Stars — NETFLIX ORIGINAL

The Unremarkable Juanquini: Season 2 — NETFLIX ORIGINAL 🇨🇴
Sadly, not everything can stay on the service. Here's your list of last calls?
Leaving April 2
Leaving April 4
Leaving April 11
Leaving April 12
Leaving April 13
Leaving April 14
Leaving April 15
Leaving April 19
Leaving April 20
Leaving April 21
Leaving April 22
Leaving April 23
Leaving April 24
Leaving April 26
Leaving April 27
Leaving April 28
Leaving April 30